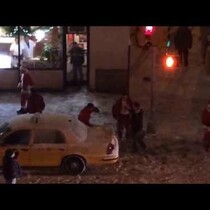 Posted December 16th, 2013 @ 8:05am
We talked about this story last month, where New York officials warned bar owners not to allow anyone dressed up like Santa to get wasted in their establishments...Why? Because the kids can't take seeing Santa acting like a drunk ass.
Good news: it didn't take!! Here's video of a drunken Santa Fight. Merry Christmas!