Foo Fighters Invited a 10-Year-Old Onstage and He Stole the Show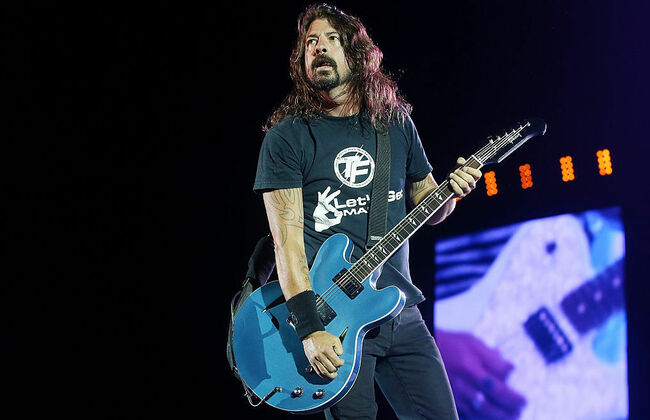 In the latest instance of Dave Grohl being the coolest person ever, he and the Foo Fighters brought 10-year-old Collier Cash Rule onstage during their Kansas City concert on Friday (October 12).
The Foo bandleader asked Rule if he played guitar, to which he enthusiastically replied "Yes!"
"What songs do you know?" Grohl asked, and the kid's answer was simple: Metallica.
"OOOHHH!" Grohl exclaimed into the microphone before asking if he wanted to play a Metallica song. He then slung his signature blue guitar over the shoulder of Rule, and the prodigy started wailing the intro to "Enter Sandman."
Grohl growled the first verse and chorus before admitting that was all he knew. "He knows more than we do!" he admitted. Rule then showed his skills with two more songs. At the end of the performance, Grohl was so impressed, he let the young boy take home his guitar. But not without making a joke first. "If I see that s**t on eBay, I'm going to find you," Grohl warned. "I will find you, Collier."
The next day, Grohl used the Foo Fighters' Twitter account to praise the wunderkind. "Lookout world...Next generation of rockers coming soon to an arena near you! Thanks Collier!" he wrote, linking to a video of the performance.
Check out the tweet and fan footage of Rule shredding below.